I hike and trail run a lot solo. These aren't massive trips days into the backcountry but they can still be hours away from the nearest town. What happens if I get lost, the car breaks down or I get knocked unconscious?
Before I had an inReach, I would leave a trip plan with friends and family (still do) and head off and hope nothing would happen. If I wasn't back, or at least had contacted family by a certain time, they would hopefully call out SAR. Thankfully, it's never happened but that was the plan.
With satellite technology we can now have 2-way communication anywhere in the world start at $10-15 per month. Spot, Zoleo, Somewear Labs and inReach all have some sort of satellite communication device that costs a fraction of what a satellite phone would, the only option before 2010.
Satellite phones and emergency beacons are still used today and definitely have their place but for ease-of-use, cost and features, communicators like the inReach have taken off with backcountry users, myself included.
Today we're going to be looking at the Montana 700i GPS from Garmin, a GPS an inReach in one.
The 'i' in the name stands for inReach so that's just built in. The massive screen, included inReach and tons of other features make it a dream for use on road trips, overlanding or any other kind of trip where you don't mind carrying the beefy 700.
Here's the quick list of the specs and we'll dig into the details after.
Montana 700i Specs
5" diagonal screen

MIL-STD 810 for thermal, shock, water and vibration.

inReach 2-way satellite messaging

Routable topoactive maps

included City Navigator maps

Qwerty keyboard

Direct to device BirdsEye Satellite Imagery

~18 hours battery life in GPS mode, 7+ days in expedition mode

Usually $699 USD (check the price)
Montana 700i Features
Large touch screen
The 5" touch screen is the literally the biggest feature on the 700. It makes the whole thing quite large. This is great when you're using trying to see a larger area and where you are in it. It can show a ton of your surroundings and is easy to see. The downside is it's a bit bigger and heavier than most other GPS.
For overlanding or other times when the GPS is mounted this isn't a big deal. Many people are mounting tablets or full laptops in their vehicles, this will be a smaller GPS solution. For out in the field hiking the 410 gram (14.4 oz) 700i is certainly heavier than an iPhone or the 241g (8.5 oz) Garmin 66.
5" touch screen shows a lot of map and scrolls quickly
I usually store my GPS is one of the hip belt pockets in my backpack and it just barely fits in the pockets of the Lowepro ProTactic 450 camera backpack I'm using at the moment for most of my day hikes. While it does fit it's not easy to retrieve so I'll be getting some sort of case to go on the shoulder straps.
The screen is easy to see in the sun at any brightness and you can adjust the brightness to conserve battery. It works well in light rain but other reviews I've seen commented it didn't work well in heavy rain. There has been a firmware update adding a rain mode to the touch screen which I haven't tested yet. I'll add more after trying that out.
inReach satellite messaging
The second big feature of the 700i is the included inReach. inReach is 2-way satellite messenger with SOS capability. With a press of a button, you can message Search and Rescue from anywhere in the world. inReach runs on the Iridium network with 100% global coverage.
The 2-way messaging can text anyone from anywhere in the world. You can type out custom messages with the little keyboard or create pre-canned messages on the website to send. Hiking on Vancouver Island is often out of cell reception and if there's a problem, even if it's just being a little late for dinner, you can send a message. Each of the plans have a different number of messages included (Safety plan includes 10) and then there's a price per message ($.75 in CAD) after that. The full keyboard works well for typing out longer messages. The touch screen if fast and responsive.
The inReach can pull weather reports as well. Basic text weather messages with a 2-day report just cost one message out of your plan but premium weather reports with 7 days are always $1.25 CAD each.
One last thing to keep in mind is the inReach needs a subscription plan to work. You can go on and off the subscription plan by month when you don't need it but it won't do anything when it's not enabled.
inReach SOS button on the side of the Montana
MIL-STD 810
With glass and electronics inside, GPS and phones can be fragile. The 700i is MIL-STD 810 rated for thermal, shock, water and vibration. This is the rating system the US Military uses to test durability and strength. After smashing screens on older GPS before I can attest to the screens being a weak point. This gives me some confidence that the 700i can get through small drops no problem. That said, I highly recommend tethering you GPS to your backpack or handlebars!
It's also IPX7 rated so it's ok under 1 meter of water for up 30 minutes. Light rain and accidental drops in puddles aren't going to bother this GPS.
Weather
The 700i has 2 ways to get weather.
Active Weather can pull weather reports when it's connected to wifi or a cell phone with a cell connection. This is great at home or if you're on trails close to reception.
inReach weather can pull basic or premium weather reports through the satellite connection for when you are anywhere else.
Routable topoactive maps
The 700i comes preloaded with Topoactive maps for North America. These are topo maps with relief shading which makes it easier to see what the terrain looks like. Each little bump and hill gets a little shadow behind it so you can easily glance at the map to see the relative height.
They also have routable offroad roads and trails based on the OpenStreetMap open source data. This means that if you see a dirt road or trail on OpenStreetMap then it will likely be included on the topoactive maps to view and route. You can turn routing on and select a point off in the woods and it will tell you which roads and trails to take to get there just like on a road.
This is a very cool feature and hopefully will be using a lot. The routing will depend on how good the trail data is on OpenStreetMap but there are a lot of people adding trails and road data to that platform so hopefully it's pretty good.
Topoactive maps seems to get updates regularly which you can install through the Garmin Express app. I'm not sure what the delay is with something getting added to OpenStreetMap and then it being added to the Garmin maps but it's exciting to see a much faster update cycle.
So far I've noticed the trails on the maps good but not complete. I always try to have an idea of where I'm going and what the trails look like before going so I don't to rely completely on the trails on the map. Creating a route in Basecamp or Garmin Earth before to follow is usually your best bet. It's nice to have a second option though.
BirdsEye satellite imagery
Satellite imagery is a great planning tool for hiking and other adventures but up until recently it was something we could only see on the computer at home. When we went out in the field we had a GPS track and topo maps.
Phone apps have come a long way and many of them offer the ability to take maps offline, some with with satellite imagery. Garmin have their own solution called BirdsEye Satellite Imagery that you can download through Basecamp. It usually requires an annual subscription to use.
Some of the new Garmin GPS can connect directly to your wifi and download the BirdsEye maps to the device to go offline. These are very helpful for finding trails or landmarks that aren't on your topos yet. From my experience in the Pacific Northwest, we get around on logging roads to access many of the recreation areas and they don't always show on topo maps, especially if they're new or have been deactivated. Recent satellite imagery will show big trails, old roads and lakes easily if you have them downloaded before you go.
BirdsEye can only use wifi so you have to download the maps offline before you leave home or kill your data on your cell connection out in the field.
Track Management
Managing tracks is very similar to all the other Garmin devices. You can add new tracks through Garmin Basecamp on a computer or the Garmin Explore app or website. The GPS needs to be wired or paired to the phone or computer to transfer the tracks.
I was disappointed to see that showing more than 1 track on the map is still the same process as older units. There is no way easily show all the tracks on the device on the map at the same time. You have to go through one by one and enable the tracks. If you have an entire network of trails you want to see then it's going to take a while. This has been a problem for years and I wish Garmin would add something to show a selection of tracks on the map through the device or Basecamp.
Best Prices on the Montana 700i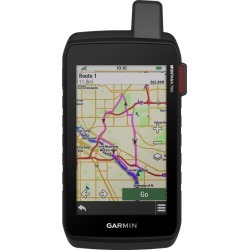 Activating inReach
The inReach part of the Montana (and any dedicated inReach or other Garmin GPS with inReach) has to be activated with a subscription plan to be able to do anything with it. The GPS and wifi parts of the unit works fine without any subscription.
In Canada there are 2 options for activating older inReach: Garmin and Roadpost. Roadpost can only activate the older inReach like the Explorer, SE, Explorer+ and SE+. Garmin seems to be able to activate them all. There have slightly different plan prices but if you've got a new GPS with inReach built then you can only go with Garmin in Canada.
Other version of the Montana 700 series GPS
I've just been testing the 700i but there are 3 different versions of the 700 series.
The 700 without the 'i' is just the GPS without the inReach. The 700i is the GPS with the inReach included. The 750i version is the GPS and inReach as well as an 8 megapixel camera. Each of the photos is automatically geotagged with your location. The photo quality isn't high but if you're just taking snapshots to remember the location for later, it would work well.
Conclusion
The Garmin Montana 700i GPS with inReach is an excellent crossover GPS for hiking, overlanding and the motorcycle use. The big screen shows a lot of ground and is easy to use. The integrated inReach let's you message for help anytime you need it. It's on the heavy side so it's not for the gram counters but if you're looking for a solid GPS for both vehicle and trail use, definitely check out the 700 series.